Downloads
License and Disclaimer
This program is free software; you can redistribute it and/or modify it under the terms of the GNU General Public License as published by the Free Software Foundation; either version 3 of the License, or (at your option) any later version.
This program is distributed in the hope that it will be useful, but WITHOUT ANY WARRANTY; without even the implied warranty of MERCHANTABILITY or FITNESS FOR A PARTICULAR PURPOSE. See the GNU General Public License for more details. Please note that use of this software is forbidden where prohibited by law.
The software includes a copy of TinyMCE, used under the GNU Library General Public License. See the LGPL license for more details.
ASP Football Pool v4.0
▼ Download (1.65 MB)
This zip file contains all the files needed to run the pool, including a Microsoft Access database preloaded with the 2018-2019 NFL schedule. Just follow the instructions in the readMe.html file to set it up.
Themes
Choose the look you want. Changing themes is as easy as replacing your current graphics and style sheets with the ones provided in these downloads. You can use them as is or customize them to create your own.
Theme Pack 1
▼ Download (6.02 MB)
This package contains the default theme (included with the pool download) and a couple of alternate themes. All three support personalized team themes.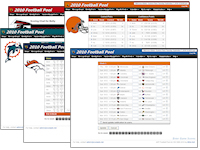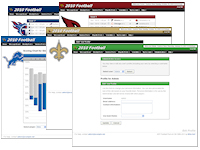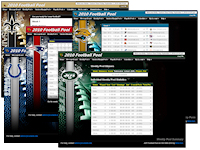 Theme Pack 2
▼ Download (901 KB)
This package contains a Halloween theme.